Press Release
First Crop Festival aims to leave no food behind
27 September 2021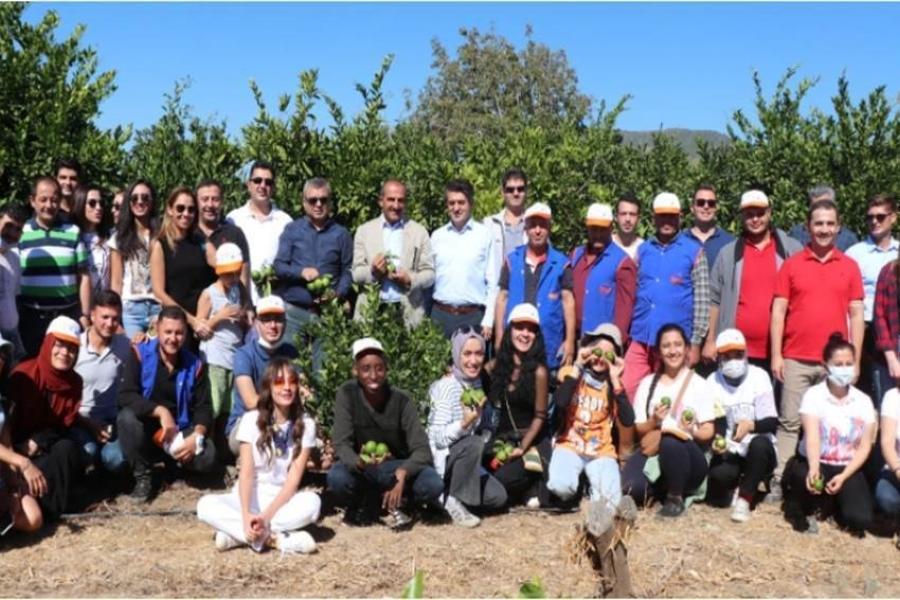 Ankara - Globally, around 14 percent of food produced is lost between harvest and retail, while an estimated 17 percent of total global food production is wasted (11 percent in households, 5 percent in the food service industry and 2 percent in retail).
While we throw away food, more than 800 million people around the globe suffer from chronic food deprivation every day. Farmers discard a significant share of their crop before it even leaves the field due to factors beyond their control, such as produce not meeting supermarket standards for size and shape, or inaccurate forecasts by retailers regarding the amount of produce they will buy. These factors and others leave farmers with excess crops on their hands.
One major area for action in efforts to reduce food loss is developing better food harvest mechanisms and practices. Gleaning is one of the most widely known practices for gathering unharvested food from fields – food which is then donated to local food banks and shelters.
To highlight this issue and to mark the International Day of Awareness of Food Loss and Waste, FAO, in partnership with Aegean Exporters' Associations and Konak District of the Izmir Provincial Directorate of Turkey's Ministry of Agriculture and Forestry, organized the "First Crop Festival" in a series as part of the Save Your Food campaign.
The festival, held on 25-26 September in Izmir, Turkey, aimed to increase people's understanding of food waste reduction by directly encouraging the "rescue" of fresh, surplus fruits and vegetables from farms that would be otherwise wasted, and to ensure their redistribution.
The two-day event included a virtual panel under the theme "No Food Left Behind", laying out common challenges and barriers to food loss and waste reduction, and a gleaning activity.
The panel, moderated by prominent journalist Ilgaz Gürsoy, was opened by FAO Policy and Food Security Expert Burak Öz. In his opening remarks, Öz explained that 931 million tonnes of food are lost each year, with nearly 570 million tonnes wasted at the household level. The two-day festival aims to shed light on this issue in the context of upcoming events to mark the International Day of Awareness of Food Loss and Waste. Reducing food loss and waste by 50 percent before 2030 is a vital target of the UN Sustainable Development Goals, and joint action must be accelerated in order to meet this goal. Öz continued:
"As part of FAO's Global SAVE FOOD Initiative, we developed Turkey's first national strategy and action plan on food loss and waste in collaboration with the Ministry, and released it last year during the launch for the Save Your Food campaign. We aim to work closer with all interested stakeholders to address the actions in the Plan and will continue to guide governments in setting national policies and fostering partnerships."
Zeynep Özkan, Head of the EU Harmonization Department and Save Your Food Campaign Project Coordinator at the Ministry of Agriculture and Forestry of Turkey, listed some of the available options, noting that where food waste cannot be reduced, food banks should be used and food given away for redistribution, including to animals in shelters. Food can also be used for composting or recycling. All of these alternatives will contribute to zero waste efforts both in Turkey and worldwide.
Özkan continued: "We have announced an economic reform programme this year to stabilize agriculture and food prices in Turkey. In so doing, we are implementing the activities laid out in the Action Plan, with the aim of contributing to the Sustainable Development Goals. Additionally, we are consulting with other line ministries to develop regulation on food banking."
Berat İnci, Chairman of the Food Rescue Association, re-emphasized the high level of household waste, which accounts for over 50 percent of all food waste. "First, we need to accept this", he explained. "Our society is often characterized as being mindful in its treatment of waste. While this used to be true, it is not the case any longer. Today, we are preventing a significant amount of food from being wasted. I hope that this endeavour will set an example and lead to other similar activities. We will continue to support such actions. In addition, many figures have been shared regarding the value of food – but if we are unable to discuss this value or the joint actions we need to take, we will not be able to move forward."
Elif Necla Türkoğlu, Beylikdüzü City Council President and Founder of the Beylikdüzü Food Bank and the Hand-in-Hand Life (Elele Yaşam) Association, noted that while food waste persists and has reached significant levels, there are still people who are unable to meet their basic food needs, both on a short-term and long-term basis. It is vital, she argued, to create a space for these people within the food chain to allow them to access food and to meet their nutritional needs. All the food wasted in Istanbul could solve the city's urban poverty crisis.
Türkoğlu elaborated: "We established our first food bank in the Beylikdüzü Municipality of Istanbul seven years ago. Since then we have worked with other districts including Şişli, Kartal, Küçükçekmece, and have provided support to 13 000 families in Istanbul alone – and those numbers are continuing to rise. Additionally, we have created a garden where we plant fruits and vegetable using local seeds, to ensure that citizens in need are able to access nutritious food for free."
The family of actress and activist Zeynep Tuğçe Bayat has a long association with organic farming. During the festival she spoke about her grandparent's fields and how they enhanced her understanding of the value of nature. She also spoke about the difficulties many people experienced in accessing nutritious food during the pandemic, and the high volume of waste that resulted.
"Once you witness the labour behind production, you are more mindful about avoiding wasting in your personal life", she explained. "I believe in individual transformation, but we need transformation on a massive scale. We need to engage and inspire younger generations to create this transformation, and by supporting this movement, we can push stakeholders to take action at the global level".
Hayrettin Uçak, President of the Aegean Exporters' Associations, spoke about recent food losses following the harvest, and emphasized the impact they have on product quality and increased costs, which also negatively affect competitiveness. "Generally our firms have sufficient storage, but when market demand is high and harvesting does not take place in a timely manner, food storage is affected. However, municipalities and enterprises can cooperate to ensure joint cold storage to prevent these losses", he explained.
Mandarin producer, Sabri Çetin, observed that in developed countries people tend to buy food in smaller volume to meet their immediate needs, and therefore waste less. He also noted that food loss is particularly severe in fruit and vegetable market halls. "I believe that if we can re-evaluate this process, we can save the food", he stated. "During harvesting, food is always abandoned, but there is no process to ensure this food is distributed to people in need. I believe that with the right organizations, such as working with provincial directorates and NGOs, we can deliver fresh produce to the right people. We do not expect any profit from this."
During the first day of the festival, a gleaning activity was organized and 605 kg of mandarins were collected and distributed to local soup kitchens.
On the next day, during the "Save Your Food Kitchen Workshop", prominent chef Sahrap Soysal prepared waste-free menus for a group of selected participants, showing them easy tips for waste-free cooking.
The crop festival series will continue in other cities during the harvesting season.
LINKS
International Day of Awareness of Food Loss and Waste
Training to tackle food waste continues in Turkey
"Save Your Food" campaign offers guidance on reducing food waste in the hospitality sector
Changing mindsets among consumers to reduce food waste in Turkey
SAVE FOOD: Global Initiative on Food Loss and Waste Reduction
AYLİN ALPAGUT
National Communications and Partnership Specialist
FAO Subregional Office for Central Asia and Turkey
Ankara, Turkey
First Crop Festival aims to leave no food behind
UN entities involved in this initiative
FAO
Food and Agriculture Organization of the United Nations