Guterres: "Mental health services are an essential part of all government responses to COVID-19"
Mental health services are an essential part of all government responses to COVID-19, they must be expanded and fully funded said SG António Guterres.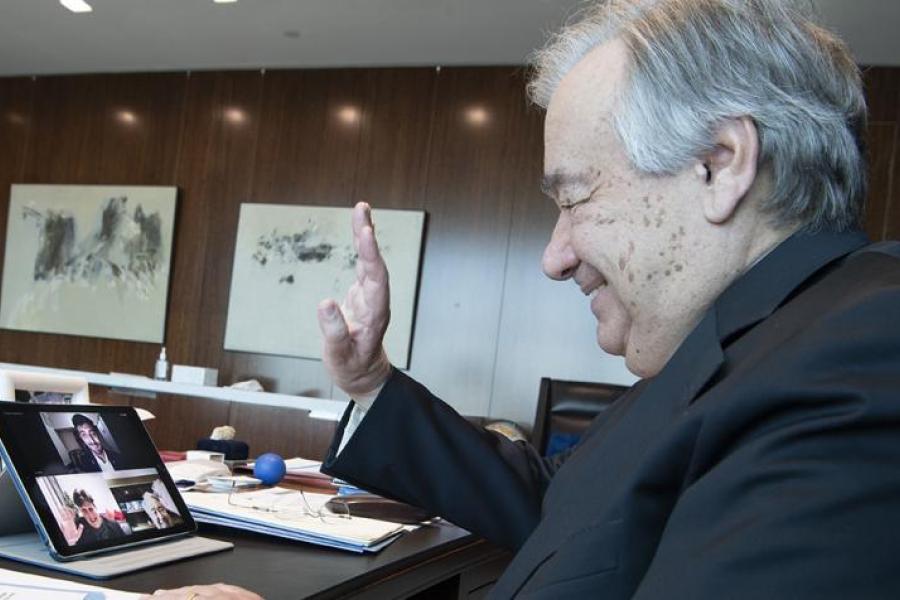 Photo | UN
Secretary-General António Guterres in a three-way video call with frontline mental health workers, Mr. Umair Bachlain in Pakistan and Ms. Charlene Sunkel in South Africa. UN Photo/Eskinder Debebe.
Decades of neglect and underinvestment in addressing people's mental health needs have been exposed by the COVID-19 pandemic, the UN said on Thursday, in a call for ambitious commitments from countries in the way they treat psychological illness, amid a potential global spike in suicides and drug abuse.
Spearheading the alert ahead of the upcoming World Health Assembly in Geneva, UN Secretary-General António Guterres urged the international community to do much more to protect all those facing mounting mental pressures.
Launching the UN policy brief - COVID-19 And The Need for Action On Mental Health – Mr. Guterres highlighted how those most at risk today, were "frontline healthcare workers, older people, adolescents and young people, those with pre-existing mental health conditions and those caught up in conflict and crisis. We must help them and stand by them."
In a video message, the UN chief highlighted how psychological problems such as depression and anxiety "are some of the greatest causes of misery in our world".
He noted how throughout his life "and in my own family, I have been close to doctors and psychiatrists treating these conditions", and how he had become "acutely aware of the suffering they cause. This suffering is often exacerbated by stigma and discrimination."
According to the UN guidelines, depression and anxiety before the COVID-19 pandemic cost the global economy more than $ 1 trillion per year.
Depression affects 264 million people in the world, while around half of all mental health conditions start by age 14, with suicide the second leading cause of death in young people aged 15 to 29.
UN entities involved in this initiative