Story
The social and economic impacts and implications of COVID-19 are different for women and men!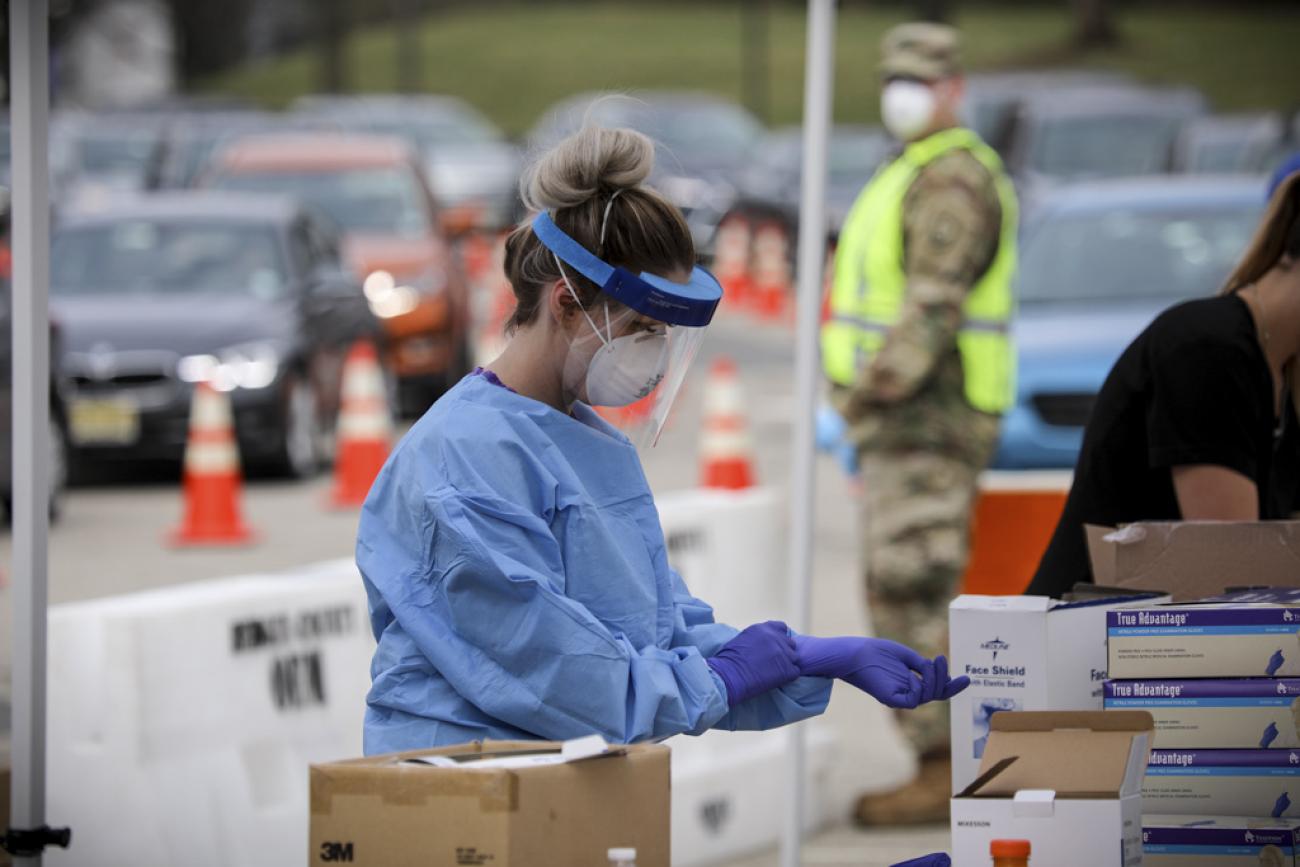 UN Women draws attention the social and economic impacts of COVID-19 on women.
New Jersey's first COVID-19 Community-Based Testing Site opened on March 20, 2020, at Bergen Community College in Paramus. Photo Credit: Edwin J. Torres for the New Jersey Governor's Office
UN Women draws attention the social and economic impacts of COVID-19 on women. COVID-19 emerges not only as a public health threat but also poses a threat to economies and all segments of society. However, UN Women stresses that women, who are at the center of paid and unpaid carework, are affected more and hit harder by the crisis.
When pandemics such as COVID-19 strike, gender inequalities are often exacerbated. Direct and indirect discrimination towards vulnerable groups such as people with disabilities, refugees and migrants and the poor become more visible.
Inequalities towards women healthcare workers might increase
Women play an extremely important role in responding to the disease as healthcare workers, community leaders and mobilisers, volunteers and scientists. Globally, women make up 70% of the workforce of health and social services sectors. In Turkey, women make up 50% of all doctors, 70% of all healthcare workers and 100% of all midwives. Women are disproportionately affected when health systems are overloaded due to crises.
A greater burden of care in the home lands largely with women!
Globally, women do three times as much unpaid house and care work as men. In Turkey, women do as five times as much unpaid house and care work as men. Self-isolation measures overburden women with the unpaid house and care work as more family members spend time home. For women who also need to work from home, this also means increased working hours.
As schools switch to distance learning, most parents' care responsibilities increase, and the responsibility often falls on women. And when daycares close and the parents need to work, the responsibility falls on grandmothers – who are in the risk group.
What needs to be done:
Equally share the house and care work with family members. Divide tasks such as dishes, cleaning and cooking among family members.
Share the childcare with other family members. Childcare isn't just a mother's or grandmother's responsibility.
Seek help from the available support mechanisms if you have a chronic illness or are in the age risk group: 112, 155, 156, 157
Domestic violence is increasing!
According to UN Women's "Progress of the World's Women 2019 – 2020: Families in a changing world" report, in 2017, more than half (58 per cent) of all female victims of intentional homicide were killed by a family member, amounting to 50,000 deaths in the year or 137 women each day. According to the same report, globally, close to 18 per cent of ever-partnered women aged 15-49 have been subjected to intimate partner violence in the previous 12 months, and some 30 per cent of women worldwide who have ever been in a relationship have experienced physical and/or sexual violence from an intimate partner over their lifetime.
And during crises such as the current COVID-19 pandemic, violence against women increases. Families spend more time at home due to the pandemic, and social and economic insecurities cause increased tension in the household. As a result, domestic violence and sexual abuse increases. Meanwhile, young women are subject to increased cyber-violence as people spend more time at home and online as quarantines and self-isolation measures continue.
What needs to be done:
If you are subject to violence or know someone who is, seek support:
Alo 183 Family, Women, Children and People with Disabilities Social Services Support Line (24/7)
Alo 155 Police
Alo 156 Gendarmerie
112 Emergency Number
Domestic Violence Emergency Lines - 0212 656 96 96 - 0549 656 96 96
Security General Directorate's Mobile Women's Support App (KADES) - (Google Play ve App Store)
Red Light Turkey Vodafone Foundation Mobile App – (Google Play ve App Store)
Economic impacts of COVID-19 crisis on women
42,2% of women employed in Turkey work in the informal employment sector as carers, cleaners and seasonal workers without a social security. Women working in the informal employment sector are hit by the crises first and lose their incomes. As they do not have any social security, they also cannot benefit from unemployment assistance.
Women's role in crisis management
Women's visibility and participation in decision making processes during crises are seminal. It is important to mainstream gender equality into crises management and include women in the planning of crisis response. Women's representation in scientific boards, pandemic and crisis management teams is important to ensure women's needs are taken into consideration from the very beginning.
Women leaders also play an important role in crisis management. Women MPs, city councilors and mukhtars can factor in women's needs and expectations in crisis management plans and ensure women are not left behind.
You can download the related video in the following link: https://we.tl/t-GaRz5lUQdc
Sources: TurkStat, Time Use Survey, 2015. TurkStat, Workforce Statistics, 2015. UN Women, Progress of the World's Women: Families in a changing world, 2019.
UN entities involved in this initiative
UN Women
United Nations Entity for Gender Equality and the Empowerment of Women