Press Release
"Save Your Food" campaign offers guidance on reducing food waste in the hospitality sector
02 July 2021
In Turkey, FAO, the Ministry of Agriculture and Forestry, and Metro Turkey have joined forces to tackle food waste in the food and hospitality sector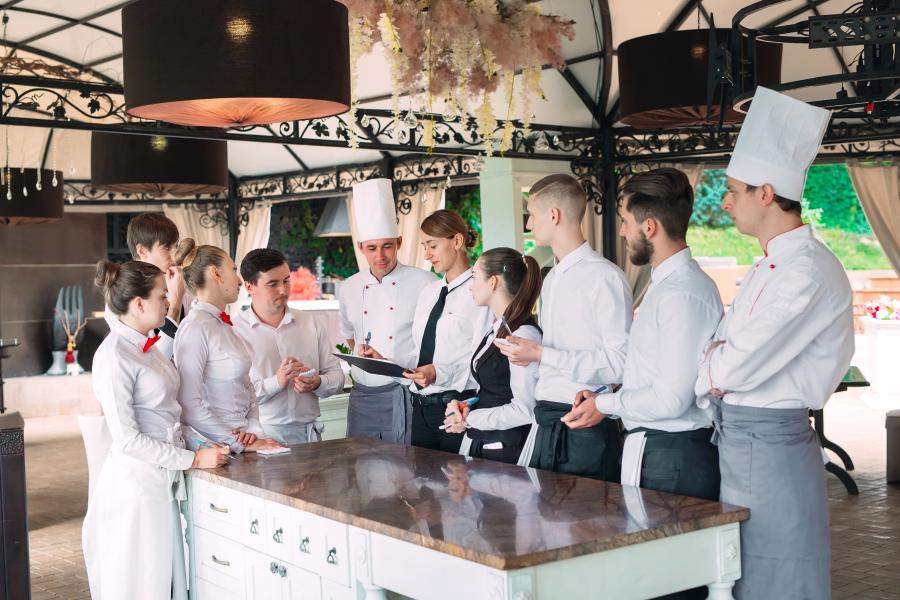 Ankara  – Reducing food waste is one of the major global challenges of our time. In Turkey alone, 19 million tonnes of food is thrown out every year, a figure that rises to around 88 million tonnes for EU countries.
A significant share of food waste originates in the food service industry, including hotels, restaurants and cafes, otherwise known as the "HoReCa" sector. Structural changes in this sector are essential to reduce food waste and related costs.
To fill this gap, FAO, Turkey's Ministry of Agriculture and Forestry, and Metro Turkey have joined forces to develop guidelines for the food and hospitality sector in the form of checklists, tips, and the right knowledge and tools to reduce food loss and waste. These guidelines also provide a step-by-step map for developing a food management strategy at any restaurant and hotel to prevent excess food and avoid food wastage.
As the guidelines make clear, the main areas where large amounts of food are wasted are preparation and storage. Other weak points in the food and hospitality industry include knowledge about how to process leftovers – whether in the kitchen, at buffet tables or on customers' plates – and oversupply and overproduction due to inaccurate estimates. These issues and their negative impacts can be tackled by implementing best practices.
The launch of the food loss and waste guidelines took place online and was moderated by nutrition specialist and FAO and Save Your Food campaign supporter Dilara Koçak.
In her opening remarks, Sinem Türüng, CEO of Metro Turkey, explained that tackling food waste is one of the most critical components of sustainability. At Metro Turkey, she said, "we take a holistic approach to combating food waste by engaging with all of our stakeholders ranging from our employees to suppliers, producers and HoReCa operators, including our closest business partners".
She continued: "Thanks to the guidelines prepared in collaboration with Turkey's Ministry of Agriculture and Forestry and FAO, and together with actors in the HoReCa sector, we aim to broaden our fight against food waste. We believe that this campaign will escalate, especially as the food and drink sector is one of the most important components of the Turkish economy as well as social life. The information presented in the guidelines will give HoReCa businesses a great start in the fight against food waste, and help them set targets and develop successful food management strategies to improve their practices. With these guidelines, we invite the entire HoReCa industry to join the fight against food waste and to take action before it is too late".
Metro Turkey is a subsidiary of METRO AG, an international specialist in wholesale food committed to the resolution of the Consumer Goods Forum and a member of the 10x20x30 initiative of the World Resource Institute. The company is also actively searching for ways to achieve a 50 percent reduction in food waste across its operations by 2030. As a contribution to global commitments, Metro Turkey initiated a "Food Movement" in 2017 to raise awareness of this issue of food loss and waste and to share best practices among actors within the food and hospitality sector. At the local level, Metro Turkey supports its 21 food suppliers in the fight against food loss and waste as part of the 10X20X30 initiative.
Viorel Gutu, Subregional Coordinator of Central Asia and FAO Representative in Turkey, explained that the guidelines were developed to help actors in the HoReCa sector "design broad strategies to separate and measure wasted food, train staff on specific preventive actions to minimize food waste, manage and recover unavoidable waste, and create food donation programmes. Furthermore, their dissemination among actors across the country in the food service and hospitality sector will constitute a major step in combating food waste and will have a real impact in the near future".
Ayşin Işıkgece, Deputy Minister of Agriculture and Forestry of Turkey, explained that "inputs were requested from 47 different stakeholders from the food service sector during the development of the guidelines. Their importance is further accentuated by the lifting of COVID restrictions, at a time when almost 4.2 tonnes of food is wasted by every single business entity."
She further noted that the Save Your Food campaign serves two Sustainable Development Goals: SDG 2 – Zero Hunger and SDG 12 – Responsible Production and Consumption, and stated that "the government is working towards sustainability by undertaking common actions with all stakeholders, starting with FAO."
The guidelines can be downloaded for free from the Save Your Food campaign website.
LINKS
Changing mindsets among consumers to reduce food waste in Turkey
New collaboration addresses food waste in the food and hospitality sector in Turkey
Food loss and waste reduction campaign of FAO and Turkey takes off
FAO – Turkey Partnership Programme
Contact
AYLİN ALPAGUT
National Communications and Partnership Specialist
FAO Subregional Office for Central Asia
Ankara, Turkey
"Save Your Food" campaign offers guidance on reducing food waste in the hospitality sector
UN entities involved in this initiative
FAO
Food and Agriculture Organization of the United Nations