Is it possible to have more equal societies after COVID?
Women's leadership post pandemic was on the agenda of the roundtable discussion organized as a UN75 dialogue.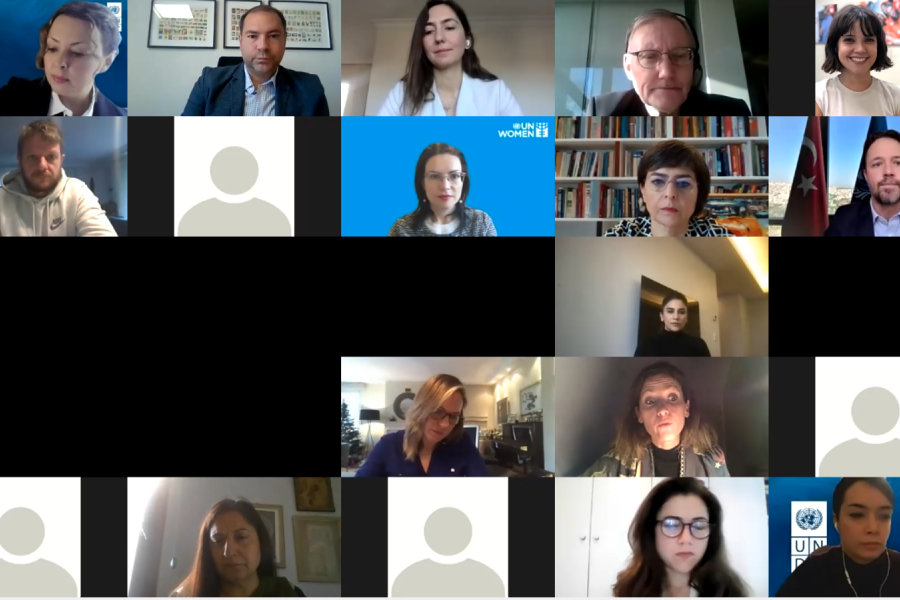 Photo | UNIC Ankara
On the occasion of the United Nations 75th anniversary a roundtable online discussion was organized by UN Turkey and Globesight titled Women's Leadership for A New Era: Is it possible to have more equal societies after COVID?
The discussions focused on how ensuring women's full and effective participation and equal opportunities for leadership at all levels of decision making in political, economic and public life will play a key role in post-pandemic recovery and how it can make a difference.
Opening the Roundtable UN Turkey Officer in Charge Alvaro Rodriguez said that the pandemic has amplified existing gender inequalities in health, education, economic security, the digital divide, and many other areas in the world.
"The warning is clear: the pandemic threatens to revert many of the progress achieved on gender equality over the last couple of decades. Gender poverty gaps are widening, the space for women's economic security is shrinking; gender-based violence became yet a critical issue in many countries; girls' education is being put on hold; and maternal health is overshadowed by pandemic-oriented care practices" he added.
It is critical to address the policies, systems and tools to better position women in decision making and leadership positions; to integrate women issues into innovation agenda and social entrepreneurship initiatives and to support networks in business sector to lead a gender-responsive and resilient economic recovery, Rodriguez emphasized.
Speaking at the event UN Women Turkey Country Director Asya Varbanova said overcoming the pandemic can and must lead to building back a better and more equal, inclusive and sustainable world. But to do this, our systems need to be reimagined. The needs of women and girls world-wide need to be priorities in determining standards, financing instruments, decisions, and budgetary allocations. Their equal participation in decision making and leadership in all areas of life is a must. 
"This is the world's chance to transform the lives of current and future generations of women and girls. Let us not waste it" she emphasized. 
"We know now that Covid-19 pandemic started as a health crisis and quickly turned into a care crises and a shadow pandemic of violence against women and showed us how much we need gender equality and gender-responsive systems in order to achieve sustainable and resilient societies" said UNDP Turkey Resident Representative Claudio Tomasi also joining the event. 
Globesight Managing Director Agnès Hière stated that gender equality is not only about government policies but also practical solutions to issues and that civil society has critical role in this.
"2020 was a hard year, 2021 will hopefully be a year we will get out of crisis and find solutions to gender issues" she said. 
Çağla Ünlütürk Ulutaş Associate Professor from Pamukkale University also spoke at the online event and said women employment has to be in the focus of public policies after the pandemic. She emphasized that all initiatives in all sizes and from all sectors should mainstream gender equality. 
Sustainability Coordinator of Koç Holding and TUSİAD Gender Equality Group Member Ebru Tezcan talked about a research conducted on the effects of the pandemic for working women. According to the research 99 per cent of working women state house work and care responsibilities as one of the challenges of the pandemic. The same issue is only reflected by 25 per cent by the men who took part in the research.  
Speaking at the event Reyhan Aktar Vice President of Management Board of TÜRKONFED said women entrepreneurship initiatives also need support packages during the pandemic.  
"Women Leading Equality Initiatives in the Key Sectors and the Future of Gender Equality: STEM, Finance, Business, and Innovation" and "Today and tomorrow of business action for gender equality" were discussed at the roundtable during panels moderated by Aslı Çoban, UNDP Turkey Gender Analyst, Duygu Ercan Mörel, Globesight Turkey Representative and  Ülkem Önal, UN Women Project Analyst. 
UN entities involved in this initiative
RCO
United Nations Resident Coordinator Office
UN Women
United Nations Entity for Gender Equality and the Empowerment of Women
UNDP
United Nations Development Programme
UNIC
United Nations Information Centre
Goals we are supporting through this initiative